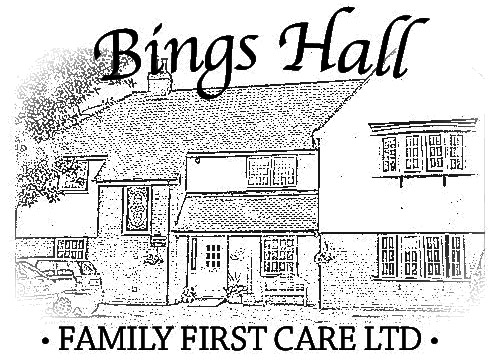 FAMILY FIRST CARE WELCOMES YOU TO BINGS HALL PRIVATE HOME FOR RETIRED GENTLEFOLK
•Bings accommodates up to 17 residents in single ensuite bedrooms, we also have a large twin room with ensuite.
•Conditions cared for:- older people generally; people with physical
difficulties; people with dementia.   We have also cared for MND
patients and those needing palliative care with the help and
tremendous support of our doctors and district nurses. Once our
residents are part of our family, they stay with us whatever future
medical problems present themselves.
•Care period:- Permanent stay; short stay; respite; day care.
•Beautiful historical village location; only 8 minutes from Great Leighs and 13 minutes from Braintree.
•Residents may bring their own furniture and choose room
decoration.  Pets considered. Daily activities are organised. Regular visiting entertainers plus trips out to local restaurants, pubs etc.
•Family orientated, always fully staffed with long serving employees.
Visitors always welcome for tea and cake.
•Great chefs using local suppliers and making beautiful homecooked meals, cakes and pastries.
•Homegrown sausages and bacon, occasional eggs and homemade jam.
•Five star environmental health rating
•ISO 9001 Quality Assurance accredited
•Investors In People accredited
•Costs are from £595 in shared ensuite room. From £700 in a single ensuite.
Local authority rate plus third party contributions accepted – NHS
continuing care funding also accepted.
VISITORS ARE ALWAYS WELCOME, NO APPOINTMENT IS NECESSARY OR   CALL 01371 820544 IF YOU KNOW SOMEONE THAT MAY BENEFIT FROM CARE AT BINGS; OR WE CAN OFFER HELP IN ANY WAY.